Yellow Pages connects the heart, mind and tummy
As part of its first major consumer-facing effort, the company has launched a mobile-first campaign aimed at urban consumers across five Canadian markets.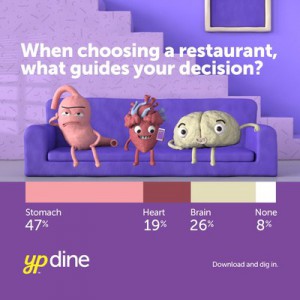 It's a bit of a Herculean peace effort – bringing the heart, mind and stomach together in virtual harmony, and it's the goal of Yellow Pages' first significant consumer-facing push for its YP Dine app.
In a spot created for the company by Leo Burnett, three characters – the heart, stomach and the brain – debate their food options, with the stomach getting increased stressed by amount of discussion involved in decision-making. But the three say they're united by the power of the Dine app, which gives the meal of their choice at the tap of a button (or two).
Media for the campaign, which aims to reintroduce a more technically capable version of the earlier app, was bought by Jungle Media and, with the exception of cinema pre-roll in 51 movie theatres across Toronto, Montreal and Vancouver, is entirely composed of mobile video content. The $1 million buy consists of three variations of its heart-mind-stomach video in lengths of 15, 30 and 45 seconds.
The media buy has been placed through a combination of programmatic channels and highly targeted buys specifically on Facebook, Google and YouTube.
Paul Brosseau, VP brand and marketing communications at Yellow Pages, says the campaign is a significant shift in direction for the company, which normally targets small businesses.

Yellow Pages first rolled out its dining app in the spring of 2015 but it didn't have the range of technical capabilities it now offers such as the ability to reserve a table directly through the app. Brosseau said when YP Dine launched in market last year, it was never promoted largely because its introduction was more of a test phase during which the business built up its roster of restaurant clients, which required signing on to use the app's technology.
The current campaign, which will be in market until December, involves a strategy of building brand awareness, as well as driving downloads and trial of the app. "The second objective is to make the click-transaction happen," said Brosseau.
The mobile-first campaign was based on consumer consumption of mobile while on the go, as well as the ability to geo-target consumers in the five markets Yellow Pages is targeting: Toronto, Montreal, Ottawa, Calgary and Vancouver.
Brosseau said the app is the first of its kind in Toronto, which allows consumers to discover restaurants, book tables and order for takeout. It also includes reviews of restaurants sourced from its dining experts as well as customers on its database.