Cineplex takes to the beaches
The media co chases a favourite Canadian topic aiming to achieve viral success with millennials (and to drive up summer sales).
Is the weather just a conversation filler or a national obsession?
The latter, it turns out, based on a Cineplex Entertainment survey that shows 62% of Canadians discuss weather at least once a day and 72% check in on weather conditions every day.
Armed with that intel, the exhibitor developed a campaign to distract Canadians from their national obsession encouraging them to venture out despite what Zeus or Ra may have in store for them. "Weather or Not" is a national activations-focused campaign aimed at getting Canadians to follow the yellow-brick road to a Cineplex near them regardless of thunderstorms or heat warnings. And while the campaign is aimed at Canadians across the board, Peter Furnish, VP of marketing at Cineplex, told MiC, the "sweet spot" is the elusive millennial demo.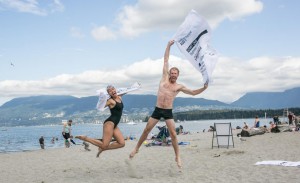 To find them, the campaign launched its first activations at beaches across the country, specifically on Wasaga Beach, ON, and on beaches in Montreal, Vancouver and Halifax where beach-goers were gifted white Cineplex towels with redeemable, bar-coded movie tickets printed on them. Once they'd been properly baked by the sun, they could shift into a cool theatre nearby and watch a film of their choice (with a requisite bag of popcorn, of course).
Creative for the campaign was developed by Zulu Alpha Kilo, with media by Isobar.
The campaign is part of the exhibitor's push to extend and reinforce its new brand platform, "See the Big Picture," across seasons.

Furnish said that the goal behind the "Weather or Not" campaign was to keep the conversation on social channels alive with a lighter, more fun-loving message.
"We wanted to create content that people will share and to continue the drum beat [from our previous campaign]," he said.
To that end the company created a small video showcasing the beach towel execution (see below) and is promoting in through conventional digital channels Facebook and YouTube constituting the biggest digital buy, as well by promoting it across its own social channels and through its Scene loyalty network.
"Weather or Not" is the second campaign of the year for Cineplex, following its traditional Blue Monday campaign to drive Canadians into the theatre on Jan. 18, apparently the most depressing day of the year.
The current campaign continues through August.