When Wave Digital Media opened its doors five years ago, it was well aware that it would be challenged to compete against large agency holding companies. Instead, the five-year-old Toronto-based trading desk chose to carve out a solid niche for itself by focusing on the business left behind by the big guys.
At the time, Wave was competing against independent DSPs such as Rocket Fuel, Tube Mogul, Videology, EyeReturn, EQ Works and Acuity to name a few – in addition to the desks already established within the WPP, IPG and Omnicom networks. Some of the independents were heavily funded, others were scrappy start-ups. Some were eventually sold , some died off. Either way, there was no shortage of platforms and sales people fighting for their share of digital ad dollars.
Most agency desks were focused on growing business within their network. Wave pursued smaller, yet scalable brands with smaller budgets, but was also able to catch larger, more established advertisers.
Josh Rosen, Wave's president and co-founder explains, "We focused our attention on what was – at the time – an underserved market, the brands directly. As a result, we acquired some big accounts in the insurance and financial services sectors. This set us on a growth trajectory that allowed us to refine our methodologies and approach to staffing, leading up to a new focus: small to medium-sized creative, design, and PR agencies competing with 'one-stop-shop' agency networks – that needed to procure and retain clients by offering specialized digital media services."
After just three years in business, Wave Digital Media was named the 13th fastest growing startup in Canada by Canadian Business & Profit Guide, 2016.
Of course, there are a number of other reasons why Wave has been able to build a loyal client following. As opposed to billable hours, the firm charges an all-inclusive flat fee agreed to up front. The team is committed to results and client satisfaction and as a result, there are no extra fees for technology, reporting, or client service.
Wave is platform agnostic. That means it uses best-of-breed technology that will most-effectively meet and exceed the campaign's KPIs.
How Wave plans, executes, and sets up campaigns is the proprietary part of its process.
Rosen says, "We're constantly involved in a campaign. One of our mantras is programmatic does not mean automatic. There is a heavy manual component, the biggest being the monitoring and hands-on required to actively see how the campaign is trading and to make adjustments. We find nuances in setup and optimization, and report those findings and insights back to clients so they can make better, more informed decisions from a business perspective."
Wave's optimization logs track every type of optimization, whether blocking undesirable sellers, reducing spend on certain creative that's underperforming, or moving dollars to better performing channels. All of that is tracked and reported back to clients – weekly on average but more often if required.
Brand safety is a priority issue for the programmatic industry. Wave's hands-on approach helps ensure that bad traffic is blocked. The firm maintains a master blacklist of sites that is appended to every campaign. On a weekly basis, anywhere from one to 10 sites are added to the blacklist depending on the optimization strategies across its campaign portfolio.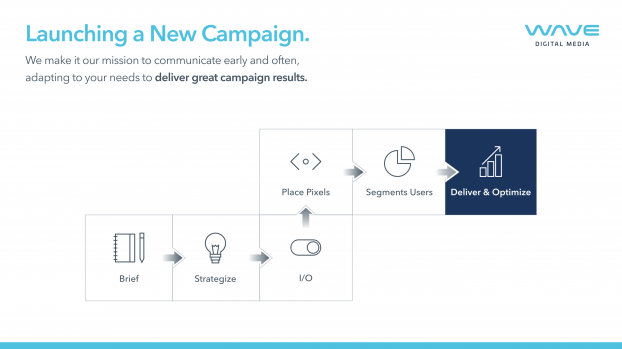 "We manually vet where impressions are coming from," Rosen says. "Vetting domains as they come in is how we make sure domain spoofing isn't happening. We watch the ticker to see how many impressions are served to ensure accuracy and watch for over-inflated numbers which are indicators of fraud traffic. In addition to our manual overrides, we also employ industry leading technology like Double Verify, Integral Ad Science, Moat, Audience ratings, etc "
Data is a major component of programmatic buying whether it comes from the client, agency or third party. Wave brings another layer of information to the process. Working with clients and agencies to provide creative best practices that help navigate the programmatic and social space.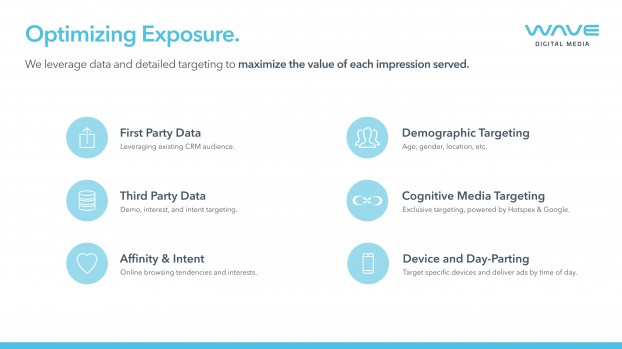 It provides agencies with insights that will help when it goes to pitch creative for the next campaign so they're not wasting creative and studio hours developing 14 different pieces of creative when three are most effective.
This feedback also helps clients and agencies understand the optimal channels to use, which again increases efficiency and eliminates waste on all levels by helping to communicate the role of each channel within the conversion funnel, assigning KPIs, then ensuring the creative is aligned with the goals Wave is measuring/tracking.
Rosen calls retargeting the underpinning of a successful digital campaign and says it should be part of every plan. "It's very important to understand what the customer journey looks like. Use upper funnel channels that are typically more long form like pre-roll to show something very visual, very compelling. Get me to want to go to your website. Get me to want to engage. Retarget me on Instagram. Hit me with carousel ads. Show me all the beautiful visuals of your products or service. Get me excited. Let me learn more. Once I've honed in on the product, retarget me wherever I am through display channels. Now you've got me."
He says the sooner Wave is brought into the planning, the sooner it can get alignment as to where the brand exists in the funnel, what KPIs go along with that stage of the funnel and the best channels to activate on for the strongest results.
"There are multiple instances where we have adjusted KPIs or simply taken control of the spend and improved metrics across the board – increased Return On Ad Spend, normalized CPM and reduced CPA to name a few."
Rosen adds, "At the end of the day, our results speak for themselves. So the hard sell is this – we're high touch, we're committed, we're a nimble team and there's no bait and switch. I'm not going to bring in a senior strategy person, a senior ad ops person and a senior account manager to win a client and then hand the work over to the most junior person I can find and bill them out at quadruple the rate we pay them. Our business growth reflects our commitment to true partnership, we're committed to providing outcomes that matter."