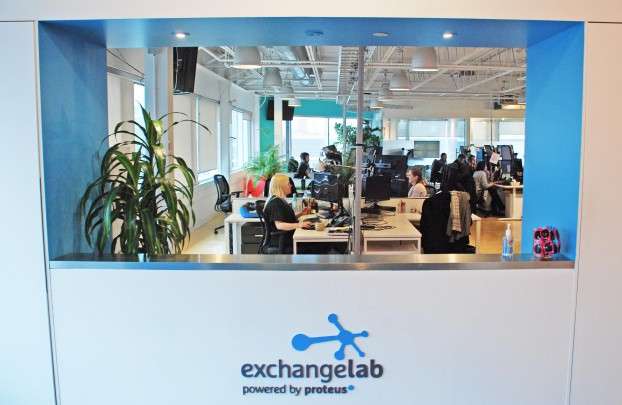 The Exchange Lab already had four years of programmatic experience in the UK under its belt when it launched its North American headquarters in Toronto in 2011. From startup to today, the company has focused on building its expertise to stay ahead of the crowd. The result of this dedication is Proteus, a proprietary multi-platform technology that unifies all leading programmatic technologies and tools into one solution.
Veerle De Lombaerde, COO North America, says Proteus is what differentiates The Exchange Lab from other programmatic companies. "Proteus enables us to connect data at a very micro level. It creates a technology ecosystem that has removed all of the inefficiencies of agencies and other solutions in the space that spend time trying to figure out how to join up disparate data points.
"Proteus does all of the heavy lifting. It enables our people to spend their time optimizing campaigns rather than pulling reports, because they immediately have that joined up data normalized in front of them."
With Proteus there is no need to use one platform for video and another for display. This single platform is connected to almost every market-leading DSP available today, with access to over 90-plus data partners. The connection is on an API level that allows The Exchange Lab's tech team to keep building on it, adding new DSPs and verification partners as required. In addition, the people who are trading the campaigns are also the people who engage with the customers directly. Being close to the person who is actually pulling the levers helps them understand what's happening with the campaign as traders adjust, change and learn what's working and what is not.
Working closely with agencies and advertisers has allowed The Exchange Lab to achieve impressive results for brands and agencies alike.
When A&W, wanted to promote awareness of its chicken products nationally and drive engagement with its 25 to 44 target demographic, The Exchange Lab's TV Sync product came into play. TV Sync allows brands to reach audiences at scale across multiple screens in sync, which means A&W's digital display advertising was activated every time its TV ad ran. The results exceeded client expectations by 179% and delivered significant reach and scale with 2.6 million unique visitors.
De Lombaerde says, "TV Sync is one of my favourite products. If your ad is running on a TV broadcast, you should be running similar messages in a programmatic environment and activating at the same time. If you take the World Cup for example, that can go even more granular with a trigger. A trigger would enable you to target a very focused area like Little Portugal in Toronto with a special offer every time Cristiano Ronaldo scores a goal."
"I'm not saying that is something you can do at scale but it does highlight the ability of programmatic to get down to a niche area connected to a very specific event or even to the weather. This weekend is going to be amazing weather wise and if I'm Home Hardware, maybe I want to run digital ads promoting a barbecue sale in the Toronto area."
She says that virtually all advertisers and agencies have bought into programmatic now and credits some of that to the new media coming onto the scene such as digital OOH, OTT, VOD and audio. Mainly she believes that it's due to the increased maturity of the programmatic industry following it's response to issues of viewability and brand safety.
"Reality has sunk in that programmatic is not just a place to buy remnant inventory. It's also a place where you get premium inventory, set up private marketplace buys and leverage the efficiency that the technology offers," says De Lombaerde. "You're now creating sophisticated, well-thought-out plans that are much more holistic. If I look at our product suite today, we're able to offer 30 individually tailored products, a collection of products we've packaged that are different ways of targeting users, and buying media that can be layered on top of each other."
Now that TV companies are coming up with ways of logging in, De Lombaerde says that, although the technology may seem intense in terms of targeting capabilities it has great potential to deliver a more welcome message to consumers and create a better product for marketers.
"There are definitely privacy concerns to take into consideration, but the time has come for consumers to engage more on this front and to be more aware of what you're engaging with. That said, I think advertisers also have a responsibility to be more clear and direct in their communication and data," she says. "Legislation like GDPR in the EU will have impact around the world with how people handle data, how consumers approach it and how advertisers work to create an ecosystem that is holistic."