Who is benefiting most from ad spending recovery?
Standard Media Index shows digital is delivering as predicted, but that has favoured some companies more than others.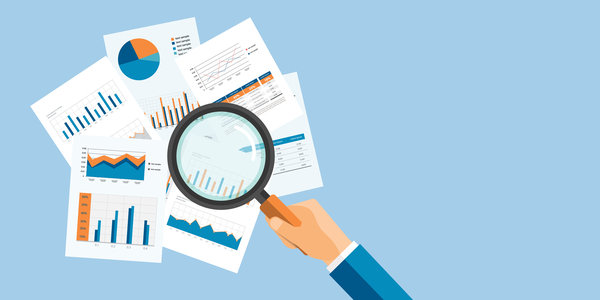 The latest analysis by Standard Media Index (SMI) shows that while ad spending in Canada isn't quite at pre-pandemic levels yet, it is well on its way. But given the role that digital spending in playing in fueling that recovery, not every media company is benefiting to the same degree.
Gleaned from media agency participants in SMI's Canadian data pool, which covers roughly 94% of national spending, the company's figures show that cross-media investment – covering TV, magazines, newspapers, OOH, cinema, radio and digital – was up 35% year-over-year for the first half of 2021. While that is a recovery from the ad spend drops at the outset of the pandemic, it's still 7% lower than the first half of 2019.
Digital investment, however, is proving to be the driver of recovery it has been predicted to be. In the first half of the year, digital ad spending was 54% higher than the first half of 2020 and 18% higher than in 2019. The share of spending going towards digital was 55.1% in the first half of the year, an increase of seven points from 2020 and nearly 12 from 2019. TV now represents 36% of spending, with radio taking 4.1%, out-of-home 3.4%, newspapers 1% and magazines 0.4%.
Darrick Li, managing director for Canada at Standard Media Index, says these are trends he expects to continue, especially since there was an improvement in Q2 over Q1. And while digital is the biggest driver of recovery, confidence is also coming back to traditional platforms, like TV.
"April, May and June tell a story that we've really come out of the worst of it," Li says. "My feeling from talking to our agency network, looking at Q3 so far, is that the spend is there and inventory is selling out, even though audiences on linear TV is down. A lot of it had to do with the upfronts and confidence coming back to advertisers."
Growth in digital OOH in the first half of 2021 was described as an "explosion" by SMI, 4.5x higher than the same period in 2020 – though its (admittedly growing) share of spend still falls behind other digital formats, representing 0.9% of spending.
Li points out that it is hard to make many scientifically-backed predictions about where DOOH will go from here, as – despite its booming growth – it is still a fraction of total OOH spending, which itself is a small portion relative to digital and TV. But he says growing offerings on the supply side and companies continuing to build demand-side platforms suggests the momentum will continue.
"Just thinking of OOH in Canada on its own, it's a small proportion of the media mix," Li points out. "But what we've seen is that digital OOH is creating it's own little category within a category that's booming, similar to how audio did last year. It's worth looking at, though it is still in its infancy."
Share of spending with all of the major Canadian media companies has gone up compared to 2020, though they are still behind their numbers from 2019. But tech companies – like Google, Facebook, Amazon, Microsoft and Twitter – have all posted double-digit increases from two years ago (shown below, click to enlarge).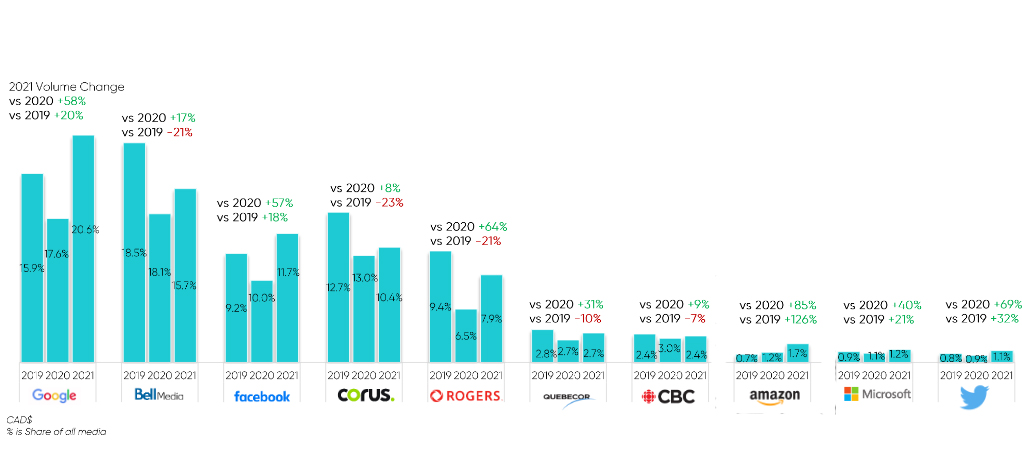 While the big media companies do have digital offerings that have contributed to improved performance, they have not been able to benefit as much from the digital recovery in ad spending.
"They have a digital offering, but they have not been able to compete with the pure-play digital companies," Li says. "Looking at digital as a percentage of their total sales, we're looking at single digits. Clearly, they are still very heavily reliant on their linear advertising opportunities and inventory. They can't compete with Google and Facebook when it comes to getting the digital advertising dollars, unless we start seeing the impact from new regulations and policies that make these digital companies pay a bit more."
Looking at different client sectors, CPG, automotive, financial services, retail and restaurants make up the top five biggest spenders, representing roughly 69% of media investment between them. However, CPG's share of investment has dipped slightly – 23.8%, from 24.1% last year – as other categories have recovered, namely automotive and retail.
Two of the sectors hardest-hit by the pandemic – entertainment and travel – are the only ones behind their 2020 share levels.