Sportsnet to give SN Now a facelift
The streaming service is working with Firstlight Media and Deltatre to revamp its tech stack and interface, which includes improved advertising units.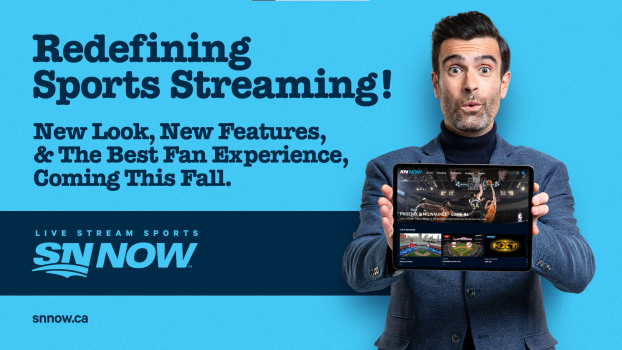 Sportsnet and OTT technology specialists Firstlight Media and Deltatre are teaming up to revamp the Rogers-owned streaming platform for sports aficionados (although the rollout isn't until the Fall).
This is good news for advertisers, because the revamped SN Now is going to improve its advertising components, notes Jason Jackson, communications manager of Sportsnet.
"The new technologies built by Deltatre and Firstlight Media will improve efficiencies in the way we can showcase advertisers and react in real-time by dropping in advertising and sponsorships in ways that we couldn't before," Jackson told Media in Canada.
"Additionally, creating a more personalized viewing experience for fans opens up opportunities for more engaging, custom promotions. The experience will be vastly improved for all our clients."
Here's what's planned: Using Microsoft Azure, Firstlight Media will build the technology foundation for the new SN Now streaming platform with its cloud-native technology stack that powers an end-to-end platform. The company says this should deliver improvements to performance, flexibility, agility, scale, user engagement and monetization.
Deltatre, which powers the WWE Network and NFL Game Pass platforms, will improve fan-first video and digital experiences, including large-scale, end-to-end OTT systems integration across live and on-demand video content.
By incorporating OTT technology and a refreshed user interface, there should be greater stream quality and reliability, personalized content, advance stat overlays and other innovations, said the company in a statement this week.
Jackson says that while there is no specific date for when SN Now's relaunch will occur, he confirms that "the revamp will be ongoing."
"We expect that every three to four months you will see significant feature enhancements for at least the next 12 to 18 months. The first phase of these enhancements will launch this Fall."
Launched in 2016 – and joined by SN Now+ in 2018 – SN Now is available on desktop or laptop through a web browser, as well as smartphones, tablets, Apple TV, Xbox One, Xbox Series X/S, PlayStation 4, PlayStation 5, Amazon Fire TV, Android TV, Samsung TV, Ignite TV and Google Chromecast through the Sportsnet app.