With advertisers increasingly relying on social media to drive purchases, Bell Media has developed new brand partnership products – just in time for the back-to-school and 2021 holiday shopping season.
Its new "Holiday Playbook," for instance, was created to meet the rise in online shopping (and discovery), with one in four Gen Z and millennials having shopped on social in the past six months, says Amanda Rotstein, senior manager of brand partnerships for Bell Media. "We recognize this trend, and are looking to meet it," she adds.
"We are offering standalone social media opportunities that allow advertisers to engage with our brands and use their brand equity by sponsoring… opportunities across all our original productions," including programs like Your Morning and Marilyn Denis, The Social, as well as networks like TSN, and everything in between, she says.
Bell's in-house production capabilities, social media platforms and first-party data can be used for a series of social-first integrations that include Targeted Videos on Twitter, Facebook, and Instagram, Twitter Sponsored Moments, and Bell Media's newest product, which leverages Twitter Spaces where product mentions are made through live audio conversations on the platform.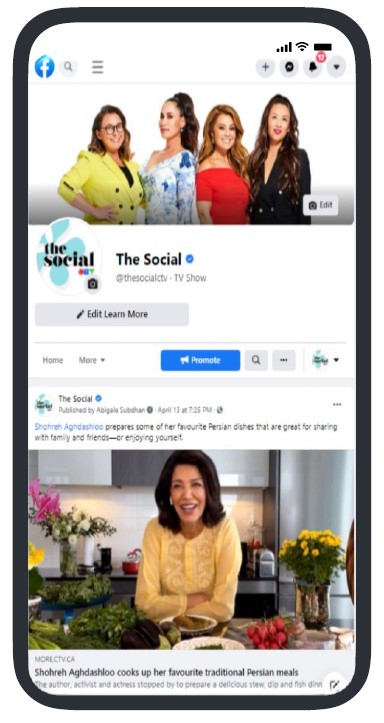 "It's a new way of thinking about brand integrations," Rotstein says. "Previously, you only had social media access if you did a full broadcast integration, but this flips that narrative."
For example, Your Morning co-host Ben Mulroney could step off of the show broadcast in real-time, and have audio conversations to dive deeper into a story on social. A brand is then able to integrate or sponsor the messaging, and leverage the opportunities of real-time questions or even emoji reactions.
The audio-only format allows for quick and easy content production, a point of differentiation that doesn't require the cinematic production values that a linear broadcast has. "We can wrap those programs in media, with reminder cards and moments and Tweets, to integrate into media and the content itself," she adds.
Pinterest, Rotstein says, is another platform where it can support brands that might have a hard time entering or managing the space. For example, The Marilyn Denis Show has great opportunities on the platform for the holiday shopping season, she says.
While the show skews female there is a sizeable male audience too, and Rotstein says almost 50% of its audience is on Pinterest, where the primary user is between age 18 and 34, skewing quite a bit younger than linear broadcasts.
The show's audience is DIY and home décor-focused, and Pinterest boards allow for deeper dive engagement around the holiday entertaining season, through things like tips and tricks. "We can create standalone social media Pinterest-focused content and integrate it natively into our Pinterest Boards," she says.
And through its "huge pool" of first-party data, she adds that Bell can also provide a clear link to check-out.