Spotted! Freedom Mobile's teeny tiny streetcar ads
The mobile provider is activating a sponsorship of a new Toronto attraction by putting ads in its miniature cities.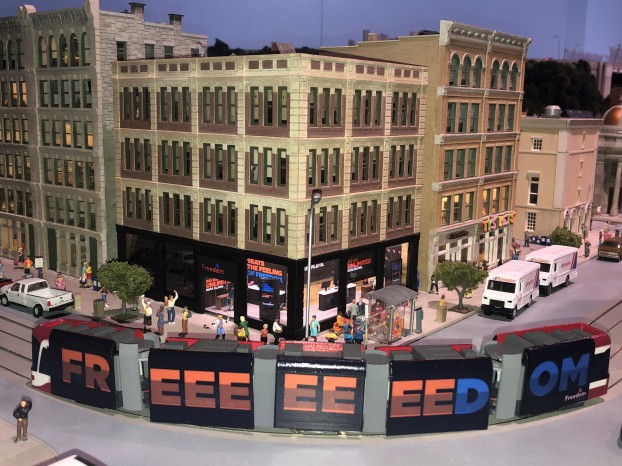 If you live in Toronto, you may have seen the above ad before: the word "Freedom" spelled with seven "e"s so it can  stretch the full length of a TTC streetcar and emphasize how Freedom Mobile tries to help customers escape the fees and restrictions of other carriers.
But while the ad might seem similar to the streetcar-sized ones Torontonians have seen rolling through town, this one is actually only a few inches long, because it appears at Little Canada, a new attraction in Toronto that Freedom has signed on to as a sponsor.
An expansive version of the miniature village with a national scope, Little Canada features scaled replicas of numerous Canadian landmarks, attractions, neighbourhoods and natural scenery. The attraction has areas dedicated to Niagara, Toronto, Ottawa, Quebec and the Golden Horseshoe region, with areas focused on the North, East Coast, Prairies, Rockies, Montreal and West Coast coming soon.
Among the current exhibits is a miniature version of downtown Toronto, where one of the street corners also features a scale model of a Freedom Mobile store, which the streetcar passes on its route through the city (yes, vehicles in Little Canada's models do actually drive through their tiny cities).
Paul Deverell, president of consumer business at Freedom's parent company Shaw Communications, says the sponsorship aligns with Freedom's own brand positioning around the importance of keeping Canadians connected, as Little Canada allows people to feel more connected with the country they call home.