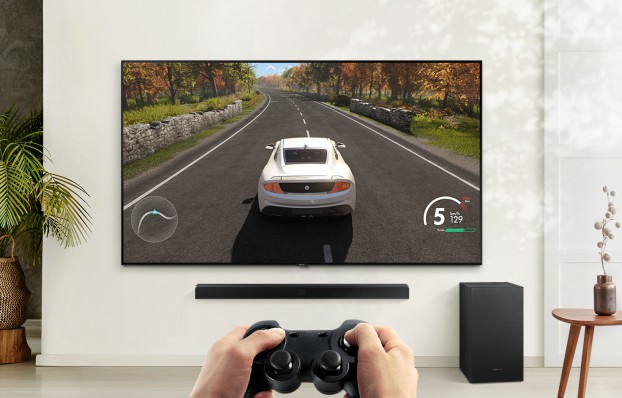 With the impending phaseout of third-party cookies approaching, protecting consumer privacy and respecting consumer choices remain paramount for brands and advertisers alike – making a first-party data strategy more pivotal than ever to navigating the future of advertising and targeting the right consumers.
With holiday shopping top of mind, developing audience insights and a clear path to purchase for your ideal consumer is invaluable.
Case in point, over the past year, Samsung Ads has seen a significant surge of streaming and gaming behaviours within Canadian households with the ability to identify and reach  gaming audiences – just in time for the holidays.
Samsung Ads data indicates that gamers on the company's smart TV platform tended to spend the vast majority of their TV time over the past year within streaming environments, as compared to linear. Specifically, more than half of gamers' TV time was spent streaming on Samsung smart TVs, which was significantly greater than the rest of Samsung's smart TV audience according to Samsung Ads' Behind the Screens Q2 2021 – Gamers are in Play report.
For context, in Canada there are over three million opt-in Samsung smart TVs which, represents 43% of all smart TV penetration in the country.
In turn, this provides advertisers with a holistic connection point to gamers who have opted-in, in a variety of ways, including streaming, CTV, gaming, and linear in Canadian homes.
"As a proxy, it's a very strong position if you're a media buyer and you're looking at this as one-to-one deterministic data that you can activate against," says Dave Pauk, Regional Sales Director, Samsung Ads Canada.
From an audience targeting perspective, insights founded on Samsung proprietary data indicate clear opportunity around targeting gamers, while at the same time, facilitating how to reach them outside of in-game touch points.
"We have a native ad placement on Samsung TV's Smart Hub," explains Pauk, "This is where all the TV's widgets and settings exist. It's the starting point for all users and includes an ad unit on the left side providing 100% share-of-voice for advertisers, with no competition or other ad units to distract the user," Pauk adds.
"So for example, I turn on my TV, and maybe I want to play a game but I see this ad for something I'm interested in so I might click on it and that will introduce additional assets like autoplay video or a banner that I can click through to a website and an opportunity to engage with that brand," Pauk says, demonstrating the opportunity to grab a user's attention before they head into the game console environment.
The platform also features different formats and targeting capabilities across AVOD channels through Samsung TV Plus.
And while the past year specifically points to gaming and gamers as a significant opportunity, the big picture value speaks to our ad platform and growing smart TV network that provides advertisers the ability to reach elusive audiences.
"It's much more robust than saying we can reach 18- to 24-year-olds," says Pauk, describing the granularity of the viewing habits intel. "It's saying we can reach 18- to 24-year-olds that have an interest in health or food, or they have an affinity for certain sports like hockey," he adds, noting that they can target based on the specific team-level based on games being watched and the cities they live in.
And with all of the granularity of targeting capabilities, Samsung also recognizes the importance of complying with privacy laws and consumer choice with respect to privacy. As a result, advertisers can feel confident that when we are reaching out to individuals it is in compliance with applicable privacy laws.
Want to learn more? 
Get in the game with Samsung Ads to learn how streaming, gaming, and brands come together to build epic stories.  Visit our social channels on LinkedIn and Instagram, website, or reach out to adsales@samsung.com.