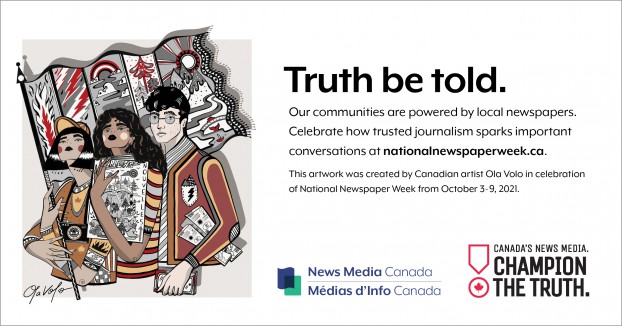 It's National Newspaper Week and News Media Canada, the national industry association representing the country's print and digital media outlets, has joined the ranks of those championing the importance of Canadian journalism.
Visual artist Ola Volo created the original illustrations for the campaign, with her latest piece "Champions" as the focal point, specifically created to celebrate Canadian journalism. The art runs alongside a message saying how important the truth that newspapers provide is to the communities in which they operate, driving to a website providing more info on the role they play.
The media strategy was crafted to provide both national reach across Canada, as well as more targeted outreach to the smaller communities that newspapers serve. Ads are running this week in 350 participating local, regional and national newspapers. It also includes a key media buy in Chatelaine, both English and French, comprised of print ad units, homepage takeovers and newsletter ad placements.
Outside of its own member papers, News Media Canada is also running OOH ads in seven provinces, specifically targeting smaller markets where local newspapers are of utmost importance. Further support comes from a national influencer and earned media PR campaign.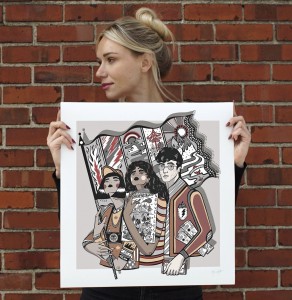 The campaign is also a fundraiser: Volo's art is available as a limited-edition signed print and as a cover on a softcover journal, with a portion of the proceeds donated to Canadian Journalists for Free Expression.
The Greater handled the creative for the campaign, having previously worked with News Media Canada and Torstar on a campaign that made the front pages of several Canadian newspapers blank to show what could happen if digital giants like Google and Facebook weren't regulated to share ad revenue. Society, etc. managed the OOH buy, while Craft Public managed media relations, influencer relations and the Chatelaine buy.