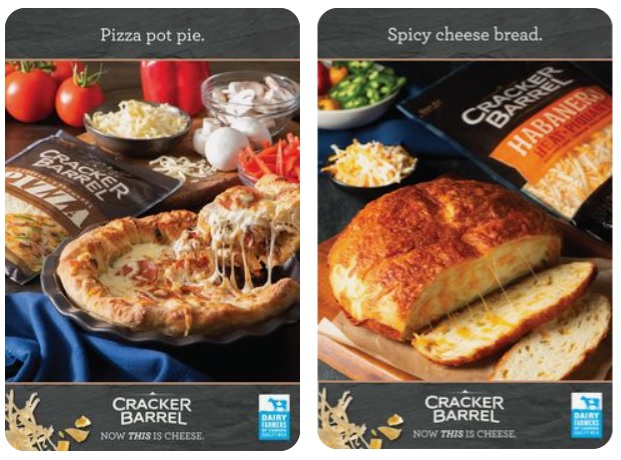 To drive awareness and reach as we enter entertaining season, Cracker Barrel is finding success through Pinterest.
The Lactalis brand recently launched a new campaign doubling down on the swagger of cheese lovers. But while the mass side of the campaign illustrates that through things like having someone bite out of a full brick of cheese, digital assets are instead more focused on Cracker Barrel's shredded formats, which are meant more for cooking.
This time of year, with weather growing colder, leads into the holiday season and peak cheese demand. So, Lactalis tasked media agency Starcom with not only maintaining top of mind awareness around inspirational cooking occassions, but contending with the conditions the pandemic had created: more competition in response to demand and a shift in grocery shopping habits to include more ecommerce.
"We needed to redefine what it meant to own more shelf-space and how to better increase our presence throughout the entire omnichannel shopping journey," says Greg Vandermey, account director on Starcom's Lactalis business. New ways of shopping have shifted consumers eating and shopping habits, as well as brand loyalty; while this is a challenge for many brands, it also generates more avenues to test products, he says.
To reach consumers during the "inspiration" phase of that omnichannel journey, the social creative running across platforms like Facebook and Instagram features easier-to-cook shredded cheese, which are more geared to recipes such as pizza pot pie and spicy cheese breads, the kind of content that is popular on social.
But Pinterest is a particular area of focus for the campaign. Vandermey tells MiC that leaning in on festive occasions through both proven and emerging platforms (which, for a brand like Cracker Barrel, includes Pinterest) was key.
Pinterest in particular was a more targeted opportunity to focus on recipe content through affinity-based targeting that offered contextual videos within other food- and recipe-related content.
Beyond simply driving people to recipes to drive trial for specific formats, Vandermey says the contextual placements also helped "instill that Cracker Barrel is synonymous with cheesing moments and needs to be a staple in every at-home chef's fridge" when they eventually stock up for holiday food occasions.
Overall, Vandermey says, the campaign has been successful so far, driving a 0.45% CTR, which surpassed the Google benchmark of 0.10%. Pinterest content also garnered 7,300 Pin Clicks and a 0.18% CTR. The campaign continues to run through the fall.